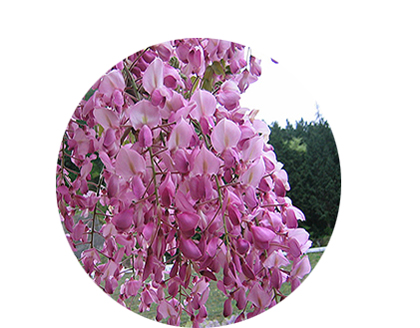 About
The Shirai Oomachi Fuji (Japanese Wisteria) Park is located in the northern Hyogo Prefecture, close to the border of Kyoto Prefecture (approx.. 2 km from the border).
In 1996, volunteers from local wards gathered 150 wisteria root stocks from neighboring mountains and scions of nation-wide famous wisteria which was given from Waki-machi in Okayama Prefecture were grafted onto them and then cultivated.
The park was established on May 1999, with the area of 7,000 square meters. With its wisteria trellis ranging 4 meters wide and 500 meters in total extension, the park is one of the best fuji (Japanese wisteria) parks in Sanin Region.
See the spectacular waves of wisteria in white, purple and pink, swaying in the valley wind. The pendulum racemes of wisteria can be 1.45 meters long in maximum.
In April, daffodils on the slope will be in full bloom covering 6,500 square meters.
You can also enjoy the countryside scenery with the watermill (5 meters in diameter) and its hut built by local citizens.
In its north side of the park there is an irrigation pond, which holds 143,000 cubical meters of water. The astonishing image of the Koinobori (carp streams) reflected on the pond can be seen in May. Get out of your car and immerse yourself and be healed with the wisteria in full bloom surrounded by the green mountains.
Enjoy the scenery and the warmth of the countryside in the crisp, fresh air.
The operating dates are from early May until late May for the Wisteria Festival of Shirai Oomachi Fuji Park (the exact operating dates may vary according to the weather)